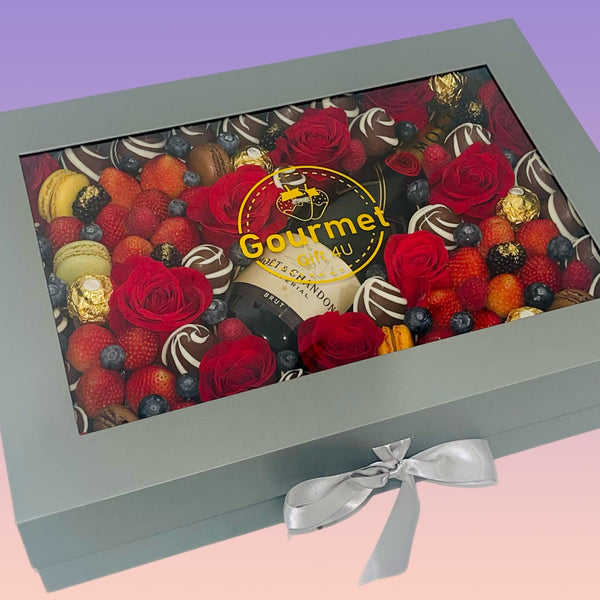 Our delicious berry box is a combination of fresh and chocolate-covered berries. Our standard box comes with berries only. 
Ingredients Berry Box:
* 30 Milk chocolate-covered strawberries 
* Blueberries 
* Strawberries 
* Blackberries 
Ingredients
Berries Box with MOET:
* 30 Milk chocolate-covered strawberries 
* Blueberries 
* Strawberries 
* Blackberries 
* Macaroons 
* Moet (full bottle)
* Flowers 
Size:
17" L x 12" W x 5" H
Description: 
We create our bouquets every day and can never repeat an identical arrangement, it's always unique and unforgettable. Some ingredients may vary in size and we put more or less into the arrangement, while still maintaining the same size, value, and design. 
- Keep this bouquet in a cool place 
- All edible parts need to be refrigerated overnight.
DELIVERY & PICK UP
PICK UP
We offer free pick up from our Encino location.
Orders are normally ready within 2 hours.
DELIVERY
Local Los Angeles Delivery is $13.99
Available delivery dates and time can be select on our cart page. 
RETURNS POLICY
We always aim for make sure our customers love our products, but we don't offer returns due to health regulations and the nature of the product.
ORDER CHANGES
You may request a change to your order at any time before your order leaves the Gourmet Gift 4U store for delivery and we will do our best to accommodate your request. However, if your order has left the store for delivery or has already been delivered, we will be unable to change your order.

To make changes to your order, please contact the Gourmet Gift 4U store that will be processing your order.  
CANCELLING AN ORDER
If you need to cancel an order scheduled for pickup or delivery from Gourmet Gift 4U store, please contact the store at least 24 hours prior to the scheduled delivery or pickup with your request.
If you try to cancel your order in less than 24 hours before the dispatch for delivery time/pick up time we charge a 10% cancelation fee.