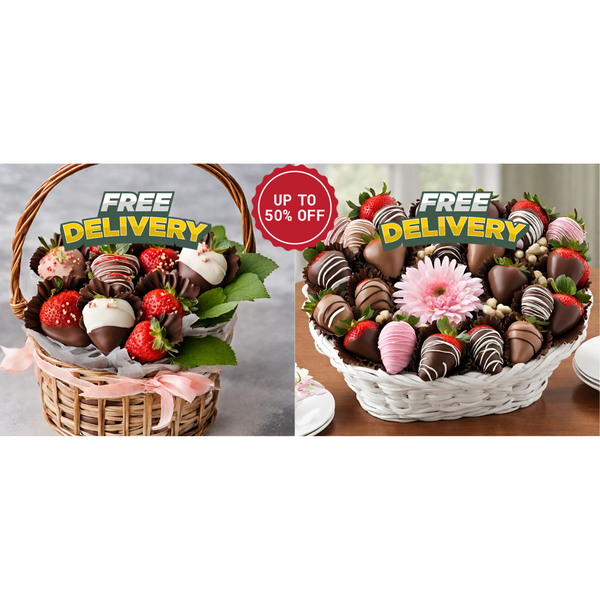 HAND DIPPED PREMIUM BELGIAN CHOCOLATE COVERED STRAWBERRIES
Discover the perfect Gourmet Gift for any occasion, with same day delivery in Los Angeles. Unlock Seamless Shopping with Personalized Assistance by calling 818-456-0137
shop now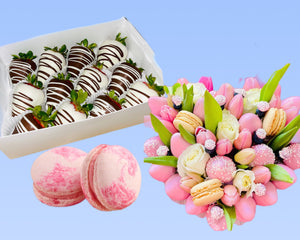 GOURMET GIFTS IN LOS ANGELES
Customization: We offer personalized packages, allowing customers to select their favorite chocolate coatings, toppings, and flower combinations, making each gift truly unique.
Seasonal Specials: Our product offerings change with the seasons, incorporating holiday-themed designs and flavors that align with the festive spirit.
Corporate Gifting: We cater to businesses, providing tailor-made gifting solutions for corporate events, client appreciation, and employee recognition.
Express Delivery: With our efficient delivery network, we ensure that every gift reaches its destination promptly, preserving the freshness and quality of our products.
Gift Consultation: Our dedicated team of gifting specialists is available to guide customers in choosing the perfect combinations for their specific occasions and preferences.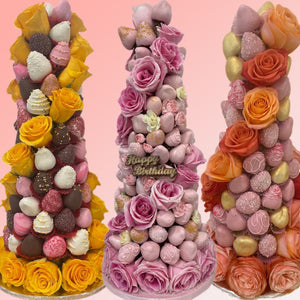 GOURMET GIFT 4U EVENTS
MAKE ANY CELEBRATION EXTRA SPECIAL. WHETHER YOU'RE MARKING A MILESTONE BIRTHDAY, CELEBRATING AN ANNIVERSARY OR GRADUATION, OR WELCOMING A NEW BABY, GOURMET GIFT ARRANGEMENTS FROM GOURMET GIFT 4U OF LOS ANGELES WILL ADD BEAUTY AND DELICIOUS DELIGHT. CHOOSE A THEME TO COORDINATE YOUR GIFT BOX ARRANGEMENT; WE CAN CREATE CUSTOMIZED GIFT BASKET ARRANGEMENTS USING YOUR CHOICE OF COLORS OR FLOWERS. EACH CREATION IS UNIQUE BECAUSE WE USE ONLY THE FRESHEST INGREDIENTS, INCLUDING OUR FLOWERS.
LETS us create for your next event
One of the most beautiful arrangements I have ever seen! I ordered the Olivia for my mom's birthday. The chocolate covered strawberries and the macaroons were very delicious! Customer service was excellent despite this crazy Covid time and I was able to place same day order. I was in constant communication with Oxana about my preferences and pick up time (you can pick up or have it delivered).
Karina A.
Such beautiful arrangements!!! So beautiful I was hesitant to eat! Delicious just like they look! My husband got me an arrangement for our anniversary, it was better then flowers! I will definitely use them for other special occasions! Must try ..
Gisel M.
These arrangements are so beautiful! Way better than just flowers. The chocolate dipped raspberries are my favorite. I'll definitely be a repeat customer. Thank you sooooo much.
Erik A.